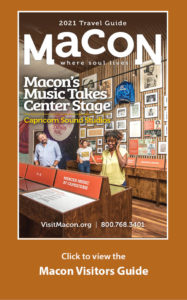 Tours
Macon was listed among legendary studio engineer Tom Dowd's "Five M's" of music towns, joined by Manhattan, Miami, Memphis and Muscle Shoals. Rock Candy Tours provides guided tours of Macon's musical history. These specially curated tours will take you through Macon's musical past which includes legendary acts like Chuck Berry, Little Richard, The Allman Brothers, and Otis Redding. Rock Candy Tours requires 24-hour advanced notice for most tours, and can be booked here:
Homes: The Hay House was built between 1855 and 1859. The 16,000 square foot home, located within walking distance of the 1842 Inn, features Italian Renaissance Revival-style architecture and is available for tours as well as special events. The home was declared a national historic landmark in 1974, and is truly a must see for any visitor to Macon. Tours are available daily starting at 10:00AM with the last tour beginning at 3:00PM. The tours are approximately one hour. Book your tour tickets here:
The Cannonball House- Offering tours six days a week, the Cannonball House was built in 1853 and was named for damage sustained during the American Civil War. This planter's townhouse is listed on the National Register of Historic Places, and the 45 minute guided tours include the main house, the original two-story brick kitchen, and servants' quarters. Tours are offered beginning at 10:00AM with the last tour beginning at 3:30PM, Monday-Saturday. Reserve your tickets here:
Parks
National Park: The Ocmulgee Mounds National Historic Park was created by President Trump's signature in 2019. Previously known as the Ocmulgee National Monument, this national park preserves structures and artifacts from Middle Georgia's first inhabitants dating back 17,000 years. The park is open daily from 9:00AM-5:00PM. The National Historic Park's annual Indian Celebration will be held on September 21 & 22, 2019. From 10:00-5:00. Admission is charged for the festival.
Amerson Water Park – A finalist for the top park in the United States, Amerson Water Park provides a fun, safe recreational space for all. The park offers amenities for all families, including a state-of-the-art handicap-usable playground which features swings, slides and other playground equipment, as well as a two-mile tubing float on the Ocmulgee River. The park is open seven days a week 7:30AM-8:00PM. Admission to the park is free.
Museums
The Big House Museum – Tour the home the Allman Brothers called home during their time in Macon. The Big House is located at 2321 Vineville Avenue, Macon, GA. In 1969 it was for rent, and by January 1970, it became the house where members of the band, their roadies, friends and families lived until 1973. It was the focal point of gathering in those early years when the magic that is the Allman Brothers Band was just taking shape and radiating from this historic Southern town. The museum is now home to the largest collection of ABB memorabilia in the world. The Big House is open Thursday-Sunday. See more: https://thebighousemuseum.com/
The Museum of Arts and Sciences — The purpose of the Museum of Arts and Sciences is to acquire, preserve, study, interpret, and exhibit objects of artistic, scientific, historical, or cultural value that have inherent significance to the people of Central Georgia, so as to promote a fuller understanding of humankind, its heritage and environment. The Museum of Arts and Sciences is a regional resource for life-long learning and enrichment that engages a diverse audience by presenting objects and experiences designed to evoke wonder, stimulate curiosity, and open minds to new worlds of discovery. The MAS is open Tuesday-Saturday. See more at their website: https://www.masmacon.org/visit-2/
Georgia Sports Hall of Fame – The Georgia Sports Hall of Fame celebrates outstanding athletic accomplishments of Georgians. The museum also has interactive exhibits designed to inspire the youth of our state to excellence. Learn more about Georgia rich sports history at: http://georgiasportshalloffame.com/site/
Downtown Restaurants and Brewpubs
Downtown Macon is filled with exceptional restaurants of varying flavors. Over the past decade Macon's reemerging music scene provided opportunities for many restauranteurs. Downtown now features dozens of excellent dining venues ranging from casual outdoor seating to fine dining. Downtown Macon has also seen an explosion of locally produced beer. Macon Beer Company's Tap Room, Ocmulgee Brew Pub, Piedmont Brewery and Kitchen, and Fall Line Brewing, give visitors ample options for locally produced beer. For our recommendations, we have a digital concierge available at check-in.
CONTACT US TODAY
Book Your Next Vacation!